Digital at Work
Digital Skills Training for Busy Organisations
A Practical Alternative to Traditional Digital Skills Training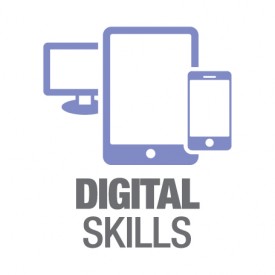 Digital Skills Training
Training without leaving the workplace
An alternative solution for busy organisations
A lack of digital skills or confidence is a common problem within many organisations but attending traditional IT courses is often not an effective solution. As a busy employers you may be reluctant to release staff to attend open IT courses when the ROI is questionable.
There is now a practical solution that takes place in the workplace and is supported with 24/7 access to additional resources, daily tips and monthly webinars. The training is specific to your business;  the digital tools you need; and how to use them within your company, supporting your systems and ways of working.
A Blended Approach to Digital Skills Training
Face-to-Face Sessions
Short, sharp sessions
A solution for busy organisations
Focused content
Facilitated digital skills sessions delivered in the workplace blended with access to further learning resources and how-to guides.
Each visit to your workplace can be one of the following:
Power Hour – Supported peer to peer digital skills training session
Focus Hour – 1 to 1 digital skills training session
Discovery Hour – A workshop exploring specific technology
After each on-site session G Acceleration will add useful resources to a shared on-line library that is available 24/7.
Hold the sessions weekly, fortnightly or monthly to meet your needs.
On Going Support
How-to guides 
Shared knowledge
On-going updates
Learning continues outside of the one hour sessions with a package of on-going resources.
Post session package of resources
Access to library of resources – 24/7
How-to software/application questions answered by email (Fair use)
Remote support using screen sharing software
Daily digital skills tip
Weekly digital news newsletter
Weekly focus on a software application to improve a business process
Digital at Work is more than a training programme
Improve Digital Skills
Discover Digital Tools
Maximise Digital Use
Choose the type of training session to meet your needs
Each session is designed to meet the needs of your business.
It may be to improve a business process, increase the skills and knowledge in the use of a particular software application or explore new digital tools to improve performance.
Power Hour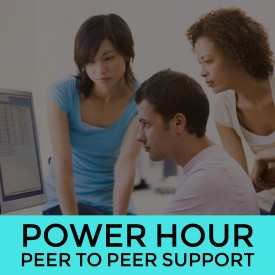 Facilitated peer to peer sessions
A facilitated peer to peer session with a team or department.
This is an effective way of increasing digital skills. These short training sessions combine resources from a facilitator with the collective knowledge of an internal team.
Each session focuses on a business task or software application.
The aim of these sessions is to:
Share knowledge, hints and tips
Streamline repetitive activities
Create in-house training resources, building a library for future use
Identify links to further training resources
Identify further training needs
Focus Hour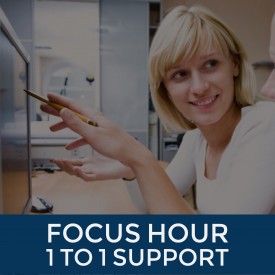 1 to 1 Digital skills support
Focused 1 to 1 support for an individual. Example sessions include:
To meet an identified training need
As part of an induction programme
To improve productivity by streamlining a task
The introduction of new software
To improve an individual's confidence
For older staff who have avoided technology
Exploring the use of existing software such as CRM or in-house systems.
The sessions can focus on software such as MS Word, Excel, Outlook or the applications listed in the Discovery Workshop
Discovery Hour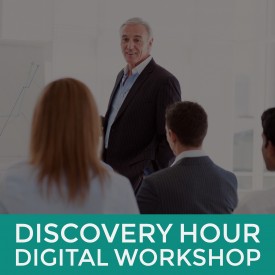 Technology Discovery Workshops
The delivery of a technology discovery workshop focusing on digital tools such as:
Mailchimp
Social media
Social media tools
Website content management
CRM software
The use of iPads
Presentation tools including Prezi
Project and task management software
Communication software
Webinar software
Survey Tools
And much more …
In addition to digital skills training, these sessions will identify opportunities to streamline business processes. The advantage of having tailored support delivered in house.
A Practical Solution
No time away from the workplace
Limited disruption to day to day activities
Each session designed to meet your needs
Focused on your needs
Designed around your ways of working
Develop Skills
Improve digital skills
Improve digital confidence
Build a library of resources
Access to how-to guides
Access to ongoing support
Improve Performance
Streamline tasks
Discover new digital tools
Make more use of existing software
Save time
Flexible to meet your needs
Session Fees
Book Digital at Work blended training sessions as and when required
£120.00 per session for clients within 20 miles of Cheltenham including design, delivery and follow up resources(No VAT)
£140.00 per session for clients within 20 – 40 miles of Cheltenham including design, delivery and follow up resources(No VAT)
Each Digital at Work package is a comprehensive mix of design, face to face training, on going support and access to resources.
Pre-session Design
Each session is designed to meet your needs and agreed outcomes.
Face to face Session
Choose from a 60 minute Power, Focus or Discovery session.
Delivered on your site, focusing on your needs.
Post event package of resources
All resources saved in the on line library
Post session pack of resources included
The creation of additional resources
Links to official user guides
Links to commercially available resources
Links to freely available resources such as YouTube videos
If required 15 minutes (follow up) 1 to 1 support delivered on-line
Additional how-to software/application questions answered by email (Fair use)
Follow up contact after two weeks and three months to check that new ways are working are being followed
Optional Retained Service
£30.00 per month (no VAT)
This includes:
A resource library for your business accessible 24/7
Daily digital skills tip
Weekly digital news newsletter
Access to two digital skills\tools webinars a month
Weekly focus on a software application to improve a business process
Need more information? Call 01452 715008